Vedana Lagoon Resort & Spa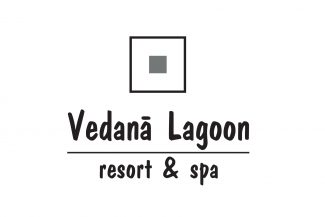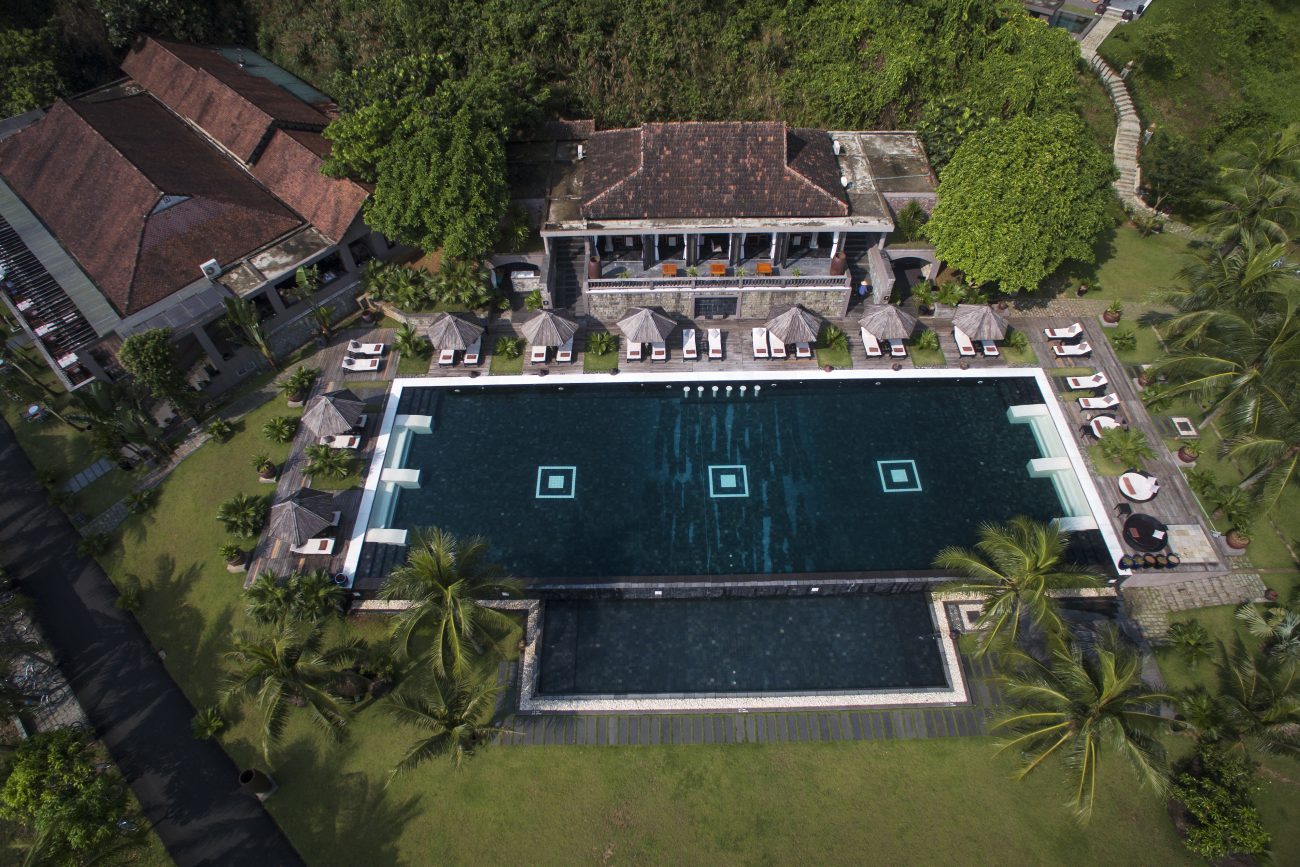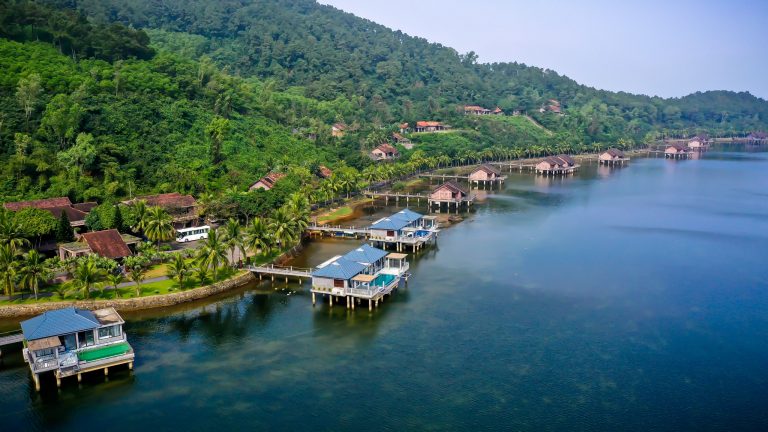 Nestled on the shore of a secluded, peaceful and serene lagoon, surrounded in lushly forested peaks. Vedana Lagoon resort & spa is well placed, offering isolated appeal and stunning views across a vast immense lagoon, one of the largest in south east asia. The resort lies between two cities well-knows for their world heritage listed sites: Hue and Hoi An. Spread over 27-hectares ensuring privacy exclusivity and above all a picturesque landscape of calm and peace.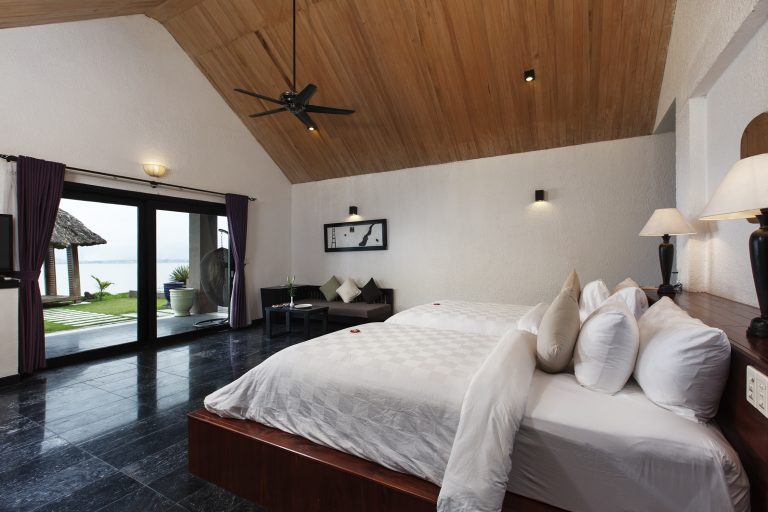 Hotel Rooms
Room Categories
Hotel Rooms
Vedanā Lagoon Resort & Spa offers a new concept with stylish interior decoration on an area of 27 hectares of undulating land and lagoon surface in a calm and picturesque landscape. With 55 luxury rooms/ villas and bungalows with 68 bedrooms, the resort is as warm and inviting as it is fresh and full of vision. Each of the villas and bungalows are individualized and have their own private sundeck, and a balcony that leads out onto the immense lagoon or into a private garden. The highlight of this resort is the first over-water bungalows in Vietnam. The essence of  Vedanā Lagoon Resort & Spa flows into the wellness experience
Room Categories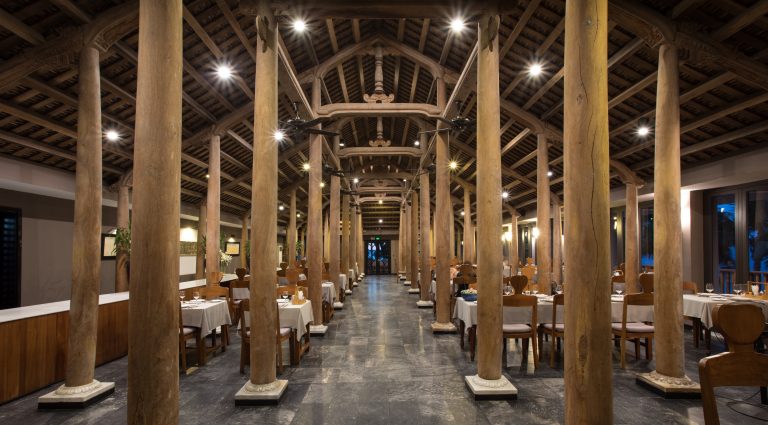 The Horizon restaurant
The Lantern house
The Twilight
Bar and Romantic location
The Horizon restaurant
Located in the centre of the resort with breathtaking views of the lush landscape and the immense lagoon. The menu features European, vietnamese and local specialities.
A menu of the day is also available which reflects local and lagoon cuisine.
Opening hours: 6:00 – 22:00
The Lantern house
The Twilight
Bar and Romantic location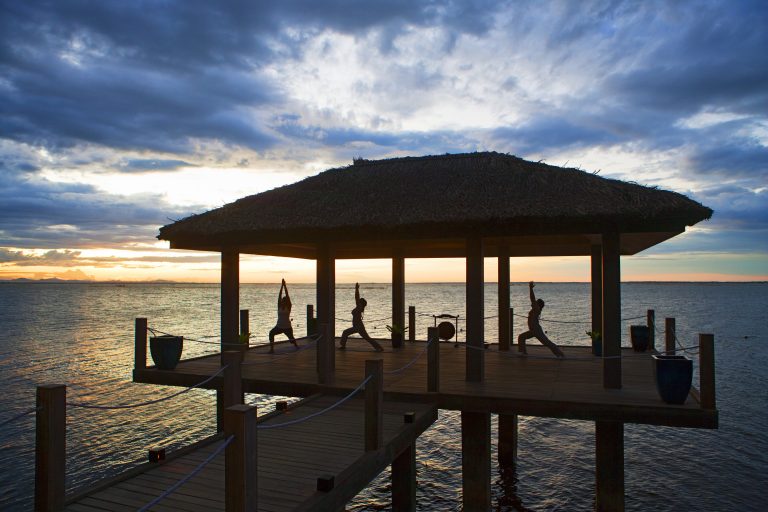 Spa
Vedanā means feeling or sensation in sanskrit. In Buddhist philosophy, an awareness and concentrated focus on Vedanā leads to enlightenment and the end of suffering. It is our intention to provide you with a memorable pleasant feeling or sensation that you take home with you, and remember forever in your heart.
Vedanā Wellness & Spa brings you an experience of spa life which we define as LUSH: Luxurious, Unpretentious, Sustainable and Healthy.
We use 100% natural ingredients that we carefully source, handle and blend, making sure there are no chemical or artificial components in our spa treatments. Where possible, we derive all spa products from our herb garden or locally from sustainable sources fresh from the markets in the morning. All our treatments are pure in style and substance, offering the unique flavours of Hue, Vietnam.
Wellbeing is promoted via relaxing elements in the spa design. Before or after the spa treatments, guests may stay in the spa to enjoy the jacuzzi, sauna and herbal steam or rest in grass-roofed shalas whilst sipping on our complimentary signature tea. All body treatments are enhanced with therapeutic essential oils.
Our goal is to indulge guests with a unique kind of spa experience, one that touches them in a way that evokes happy memories of Vietnam, yet also designed to relax, rejuvenate and restore via our highly trained spa professionals.
Yoga
Activities
Hotel Form for Booking Inquiries
Please note that this is not a live online booking engine. By submitting your hotel booking inquiry, does not confirm the hotel booking yet. Our reservation will get back to you with a confirmation and prices. Once you have received our proposal, you have the opportunity to review it before finalising the booking with us.